We design, build and install
amazing

commercial spaces.
T&H Sheetmetal has over 30 years of experience in designing, manufacturing and installing stainless steel kitchens, architectural fabrication and water jet cutting for projects of all sizes.
We'll get back to you within 8
business hours.
The
experts

in commercial kitchen design & custom fabrication.
With top-of-the-line equipment and an unbeatable team of passionate professionals, it's no wonder that we've been turning heads with our bespoke design and fabrication for over three decades.
Working alongside some of the world's biggest brands in the food-service industry, we have provided innovative, custom spaces for all types of commercial projects.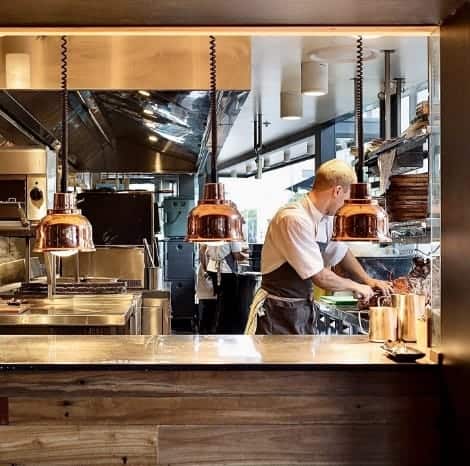 Why
choose

T&H Sheetmetal?
We'll get back to you within 8
business hours.
It has been a pleasure to work with such a professional team and to be able to help them out on their projects. Their quality of workmanship is outstanding. I look forward to working with them into the future.
Williams Refrigeration
"Such a professional team..."
T&H Sheetmetal are one of the most professional and capable sheetmetal engineering firms that I have worked with. They have consistently delivered on commercial projects that I have been involved in over a fifteen year period. They are problem solvers.
Hammersmith Construction
"They are problem solvers..."
We love working with T&H Sheet metal! Their planning and professionalism make being a supplier to them a breeze. Congrats on the 30 years in business guys, that is a real amazing effort in this industry!
3 Monkeez
"Being a supplier to them is a breeze..."
T&H and Meiko have worked together on certain projects and it's always a nice experience working with them. Being one of our True Blue partners, they are easy to work with and we are looking forward to having a good and lasting relationship with them.
MEIKO
"Easy to work with..."
Extremely happy with the work completed by T&H Sheetmetal. I was very pleased with the professionalism shown by everyone I dealt with - They were so easy to work with. Would definitely recommend!
E. Moloney
"Would definitely recommend..."
Great team - Always efficient and reliable with our orders placed - They give us a day and a time, and order will be ready for collection - And it's always consistent.
S. AUCONE
"Always efficient and reliable..."
I cannot thank the team at T&H enough for the amazing work they did for us and our client. We had the option of using a few different suppliers but I am so happy we went with T&H. Their quality, craftsmanship, transparency and team were all first class...
AMICUS
"I cannot thank the team at T&H enough..."
WE CREATE
incredible

CUSTOM SPACES
Trusted by over 1000 businesses of all shapes and sizes, our team of dedicated
and creative experts can transform your ideas into reality.
We'll get back to you within 8
business hours.